Don't know which glasses will suit you best?
Ordering online can be tough, no fear, Mr. Woodini's got your back!
In this tutorial, you will learn how to easily choose the right size and the right style of glasses.
A frame-size guide for sunglasses can be a helpful resource for that shopping for sunglasses. The guide can help you determine the best size of sunglasses for your face, as well as help you understand the different size options that are available. When shopping for sunglasses, it's important to find a pair that fits well and feels comfortable on your face. A frame size guide can help you do this by providing information on the dimensions of the frames and the fit of the sunglasses. Some factors to consider when using a frame size guide include the width of your face, the shape of your face, and the size of your nose. It's also a good idea to try on a few different sizes to see which one feels the most comfortable and looks the best on you.
On each product page, you will find details about the glasses' unique model and dimensions.
We're here to help you better understand how to pick your new eco-friendly sunglasses. 
First of all, before you start looking for a ruler…
Do you have a pair of glasses? Excellent! That's all you'll need! 😊
On most pairs of glasses, the following dimensions are written on the frames: 
Lens width (appears on the left) – Finding the right-sized lens is very important when choosing glasses. A wrong-sized frame will make the glasses look too large or too small on your face.

Bridge (appears in the middle) – The bridge dimensions are usually written between the pad arms.

Temples Length (appears on the right) – The length of the temples is measured from the hinges to the temple tip (see diagram). The average length of a temple is 140-145 mm.

If you don't have a pair of glasses, don't worry! Just follow this guide:
Stand in front of the mirror
Hold a ruler over your forehead, and measure the width of your face from ear to ear. Do not include the ears themselves!

After measuring, we recommend choosing your new glasses from our site using these dimensions:
49mm Lens width = 115mm Face Size (temple to temple)
52mm Lens width = 127mm Face Size (temple to temple)
54mm Lens width = 130mm Face Size (temple to temple)
55mm Lens width = 135mm Face Size (temple to temple)
57mm Lens width = 140mm Face Size (temple to temple)
58mm Lens width = 146mm Face Size (temple to temple)
61mm Lens width = 152mm Face Size (temple to temple)
Confused? We can help fix that:
Small Frame: Below 55mm

Medium Frame: 56 mm- 64 mm

Large Frame: Above 64 mm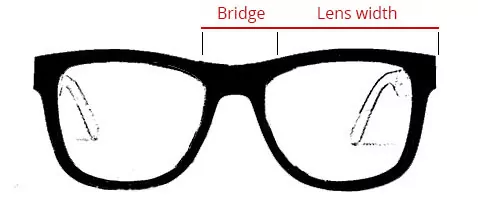 Are you ready to embark on a journey with Mr. Woodini?
Check out our Wooden Sunglasses collection!
Don't know what pair of glasses will best suit your face shape? Click here and find out!
Good luck 🙂